Insurance Basics For Delivery Drivers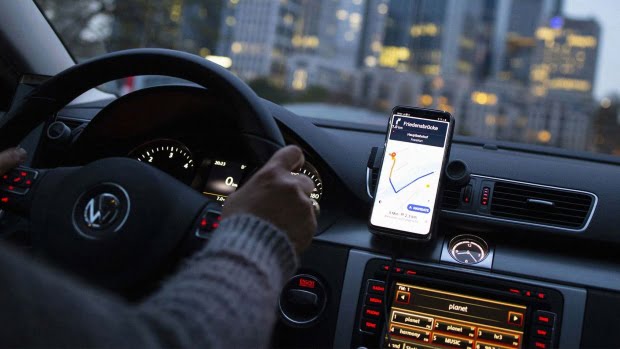 Delivery drivers play an essential role in our day-to-day lives; it's easy to take for granted the convenience of being able to order something online or on the phone and have it brought right to your doorstep. Recent years have seen an increase in demand for delivery services throughout the country, including here in Maryland. This in turn has led to an increased need for insurance coverage to protect drivers and their employers.
Do you work as a delivery driver? Let's talk about the basics of insurance, from the types of coverage you should consider to potential risks, as well as how to choose the right policy to meet your needs.
Types of Delivery Drivers


Different types of delivery drivers might need different forms of coverage, depending on the job they perform. Here are some common categories:
Food delivery drivers. These drivers typically work for food delivery platforms like UberEats, Grubhub, Postmates or DoorDash; their job is to drive to restaurants, pick up food orders and bring the orders to customers' homes.
Package delivery drivers. This category includes couriers for companies like UPS, FedEx and the Postal Service (USPS), plus independent contractors delivering packages for Amazon or with logistics services like Lasership.
Rideshare drivers. Drivers working for rideshare companies like Uber and Lyft generally transport people, but they can also deliver food and packages. These drivers have specific insurance considerations, which we'll talk about a little more below.
Freight and truck drivers. Long-haul truck drivers or local delivery drivers who transport large items and cargo may need specialized commercial insurance.
Potential Risks

Delivery drivers deal with a fairly unique set of risks during their day-to-day work, which is why insurance is crucial for them. Common risks include:
Accidents. Delivery drivers are at a higher risk of accidents given the amount of time they spend in their vehicle, as well as factors like pressure to deliver on time, fatigue, bad weather and unfamiliar neighborhoods.

Theft/vandalism. Both the driver's vehicle and the items they're delivering can be stolen or vandalized.


Injury.Delivery drivers can suffer on-the-job injuries like slip and falls and strains, in addition to vehicle accidents.

Property damage.Drivers might accidentally damage a customer's property while making deliveries.

Liability. Delivery drivers might be held liable for any accidents or injuries they cause while delivering packages or food.
Insurance Options for Delivery Drivers
Now that we've outlined the different delivery driver jobs and associated risks, let's explore the insurance options available to you to protect against these risks.
Auto insurance. If you use your personal vehicle for delivery work, you need to make sure that your auto insurance policy covers commercial use. Standard personal auto insurance policies typically exclude commercial coverage, so you might have to upgrade to a commercial insurance policy (or explore rideshare insurance if you also drive passengers).
Commercial General Liability (CGL) insurance. This insurance provides coverage for any third-party injuries or damages that may occur during the course of your delivery work. It's particularly important if you have any interaction with customers or members of the public.
Workers' compensation. If you're an employee of a company (i.e., not an independent contractor), your employer should provide you with workers' compensation coverage. This insurance compensates you for medical expenses and lost wages if you get injured on the job.
Cargo insurance. Cargo insurance covers the products you're delivering, and can protect you from financial liability if these products are damaged, lost or stolen.
Rideshare or delivery insurance. Some insurance companies offer specialized coverage for rideshare and delivery drivers. This type of insurance is meant to bridge the gap between your personal auto insurance and commercial coverage.
Personal Injury Protection (PIP). PIP coverage can help cover medical expenses, lost wages and other costs if you're injured in an accident while working as a delivery driver.
Uninsured/Underinsured Motorist coverage. This coverage can be crucial if you're involved in an accident with a driver who doesn't have insurance (or has inadequate coverage).
What About Independent Contractors?
If you work as an independent contractor for a delivery company, you should be aware of how this might affect your insurance needs. Independent contractors are typically responsible for their own insurance coverage. Some delivery platforms provide limited insurance coverage for their drivers; these policies often have gaps, however, so you might need to supplement with your own coverage.
Consider upgrading to commercial auto insurance – as well as CGL insurance to protect against liability claims if, as mentioned earlier, you interact regularly with customers. Keep detailed records of your deliveries, too; doing so can help protect you in case of disputes or claims.
Is Insurance for Delivery Drivers Expensive?
Unfortunately, it can be. However, there are some steps you can take to potentially lower your premiums:
Shop around. Compare quotes from multiple insurance providers to find the best rates and coverage for your needs before making any decisions.
Bundle policies. Some insurance companies offer discounts if you bundle different types of coverage, (for example, auto insurance and CGL insurance).
Raise your deductibles. Obviously, you need to be sure you can afford your deductible in case of a claim, but raising it can lower your premiums.
Drive safely. A clean driving record can lead to lower insurance premiums, so practice good driving habits.
Choose the right vehicle. Just as driving safely can reduce your premiums, so can the type of car you drive. Cheaper, safer cars tend to cost less to insure (on average).
Take a defensive driving course. Completing a defensive driving course might qualify you for a discount with some insurance providers.
If you work as a delivery driver, insurance is more than just a legal requirement; it's a way of protecting your physical and financial well-being. Whether you're an employee or an independent contractor, you should carefully consider your options and choose the insurance coverage that maximizes your benefits while minimizing your risks.
For questions and assistance regarding delivery driver insurance claims, contact the Law Offices of Nicholas Parr in Baltimore, MD today to schedule your free consultation. We don't receive a fee unless we win.